In which we upgrade our DAW and experiment with PCIe-PCI adapter cards.
ROSSINI has four internal hard drives:
C: (SSD 256G) OS and applications
D: (SSD 256G) audio projects
E: (HD 1TB) backups, rips, temp
H: (HD 600G), mp3 library; leftover stuff from the last DAW migration 8 years ago
Every time I upgrade my DAW I end up with a new primary OS drive and then I move over the drives from the older machine. ROSSINI was the third generation, and only some of the drives are transitioning to VIVALDI. E: and H: still have gobs of free space.
VIVALDI has a 512 GB SSD as the primary drive (it's a tiny thing mounted directly on the motherboard!) and room for three additional full-size drives.
First up, some file management to back up the contents of D: to H: and also put everything I'll need (installers, product keys, license files, sound libraries) on E:.
Then, D: and E: transferred cleanly into the new chassis:
I also upgrade the power supply, replacing the no-brand Dell 450W unit with a brand new SMART 600W from Thermaltake. I purchased this from PC Plus in town. Support your local retailers, guys.
(I always upgrade the PSU in my DAW computers, but this time I had an additional reason that I'll get to later.)
There's a free bay on the bottom left, but I'll keep C: and H: in ROSSINI for now to serve as a backup machine for now, and eventually as a perfectly serviceable general-purpose PC. (The 4-core i7-920 is no slouch, really, and it has 16 GB RAM.)
Next Step: Powering up; cleaning up the Windows 10 Pro default installation (I can't believe the number of options you have to disable to make it bearable); and installing my suite of audio applications, VSTs, and libraries.
That took about a full day.
Now it's time to see how the Focusrite 6i6 USB 2.0 audio interface performs (see previous post for details of testing in ROSSINI):
Computer: VIVALDI
Interface: Focusrite Scarlett 6i6 USB2.0
 

Buffer Size  ASIO Reported RTL      Measured RTL
-----------  ---------------------  ------------
     256      25.5 ms  1102 samples    0.037 sec
     128      13.1 ms   578 samples    0.020 sec
      64       8.2 ms   362 samples    0.013 sec
The RTL latency tested out exactly the same as ROSSINI! I was expecting better performance but it seems that RTL is not affected by processor speed or core count.
However, if you recall, playback of a large project on ROSSINI at 256 did result in clicks and pops. On VIVALDI, the same project played back smoothly at 128 but started clicking at 64.
Bottom line: It appears I could use the external USB 2.0 Focusrite 6i6 on VIVALDI and get almost the same RTL performance as the ECHO Layla 3G internal PCI card on ROSSINI. I'd call it acceptable.
But we're not done yet. A few days earlier, a timely post from John Kenn on the Cakewalk SONAR Hardware forum suggested an interesting alternative: using a PCIe -> PCI adapter card. Perhaps we could use the ECHO Layla in VIVALDI after all?
Checking the specs on the Layla PCI card: it's a half-height/low profile universal voltage PCI card (3.3V/5V).
Worth experimenting with, I think. Ahead of time, I ordered this PCI Express to PCI Adapter Card from StarTech.com for $60, and it arrived just before VIVALDI was shipped: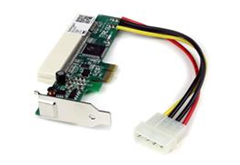 One catch: I needed a spare molex power connector to supply additional voltage to the adapter card. The generic PSU in the new XPS 8930 did not have any molex leads!
No problem. I was going to upgrade the PSU anyway, I'd just make sure I got one with standard molex as well as the usual MB, FAN, and SATA connectors. The SMART 600W from Thermaltake fit the requirements.
The adaptor card fit snugly into a spare PCIe x4 slot on the motherboard:

It's sufficiently distant from the GPU fan that I don't think there'll be an issue there. (I don't plan to drive the GPU too hard anyway).
The ECHO PCI card piggy-backs on to the adapter card without trouble: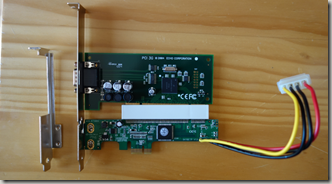 In the picture above it looks as though the PCI card is having trouble sitting firmly in the PCI socket, but that's on me – when I took the photo I hadn't firmly located the two cards together. It's tight, but they mate well together without using excessive force.
In fact, I recommend connecting the two cards together outside the chassis and then inserting them as one unit into the PCIe slot. Just for kicks, I'll show you the result: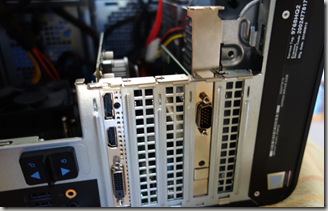 Yeah, that's not going to work as-is. The full-size back plate on the ECHO PCI card is going to have to be modified, or…
The solution is to remove the back-plate from the PCI card, and swap the back-plate on the adapter card with an alternative one that ships with it: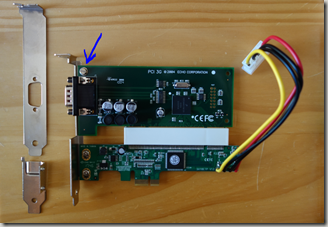 Without a back-plate of its own, the PCI card has more movement than I'm comfortable with, but luckily there's a lip on the alternative back-plate that the card can rest against, and a convenient hole in the card that I could use to hold the PCI card in place using a little bolt with washers on either side.
Nice, just like a bought one.
Final assembly:
Not bad.
Power up; install ECHO drivers (they still work well in Windows 10 despite only being certified for Windows 7).
Works perfectly. Measurements are IDENTICAL to ROSSINI:
Computer: VIVALDI
Interface: ECHO Layla 3G PCI via PCIe adapter
 
Buffer Size  ASIO Reported RTL      Measured RTL
-----------  ---------------------  ------------
     256      13.7 ms   602 samples    0.015 sec
     128       7.8 ms   346 samples    0.010 sec
      64       4.9 ms   218 samples    0.007 sec
That's fantastic. Thanks John Kenn for the suggestion to investigate PCIe-PCI adapters. Apparently they work.