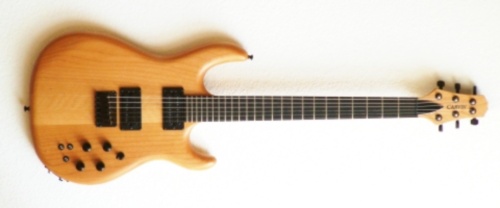 Serial# 423649
When I sold my TL60 to Tony The Bass Player, I ordered up a replacement instrument with similar specs:
DC127
Fixed Bridge
Tung-oiled Alder neck and body
Rounded body style
No inlays
CT-style headstock
C22B, H22N pickups
Fishman Piezo-Acoustic bridge
DC200-style active electronics
Black chrome hardware
Basically I wanted the same specs as my old TL60 but with the following changes:
rounded body sides (not available on TL60)
No tremelo (the piezo pickup was sensitive to creaks and popping sounds)
No neck inlay dots (I like the clean look)
I've never felt the same way about this guitar as I did about the TL60. This surprised me – it was supposed to be a better instrument for me. However it remains a quality instrument.
Update: I've gifted this guitar to my godson who no doubt will play it more than I did.