My Dad passed away 2 months ago, from cancer.
I know Dad was proud of the musical activity of all his children, although as far as I know not much of my personal creativity appealed to him. However I do know that every CD of our music that I burned and gave him was in his CD rack.
There are many treasured memories to choose from, but one in particular might be appropriate for this forum: Many years ago, I was living at home, and I raided Dad's toolbox for a pair of wire cutters to trim the ends off the new strings on my guitar. Of course, the hard strings notched the gentle wire cutters, and of course, Dad noticed.
Instead of getting angry, he went out to the garage and came back with a newish looking pair of Knipex wire cutters, handed them to me and said, "This is the right tool for the job".
I've used this pair to trim my guitar strings ever since. (no sign of notching, yet.)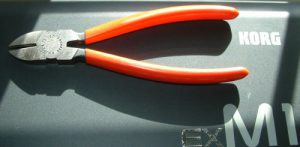 In September I travelled to see Dad when he was in hospital. I played him an unfinished version of a track i was working on, which did not have a title, and I think he appreciated it. It's hard to tell with Dad sometimes.
Inevitably, this piece is now associated with Dad and therefore it now has a title, "A Sample Of One",  which I will not explain here. This month I completed the track, recording the acoustic guitar using one of Dad's Zoom H2 units.