I'm having some difficulty making progress compositionally on a couple of new pieces, so I decided it was time to go back to some mostly-recorded works and see what needed to be done to get them ship-shape for album #2.
I should probably document my manifesto for album #2, but one of the tenets is to go back to the first demos for each piece, and respect the original instrumentation, if it makes sense to do so.
For the piece currently known as "Listen", the bass riffs were developed shortly after I acquired my Chapman Stick, and certainly the early demos all featured it. So why, I have to ask, does my current work-in-progress project use a regular bass instead?
So I take out the Stick case from the back of the closet, and give it a good cleaning and a new set of strings (standard 10-string tuning). Usually I spend a long time trying to find the perfect recorded tone, but this time it came together pretty quickly (see below).
Another tenet in my manifesto is to avoid building up tracks by stitching together multiple takes. I'm not normally a "one-take" kind of guy, so this means, practice. And in the case of the Chapman Stick, which I hadn't seriously played for a couple of years at least, lots of practice.
Finally, I think I got it down. In one take.
Here's a little video I made while (re)recording the bass:
https://www.youtube.com/watch?v=9mB38yCU6D0
The backing track is not final; it's a special mix that keeps things simple and un-distracting.
Now, with respect to that tone, here's how it is achieved in the DAW: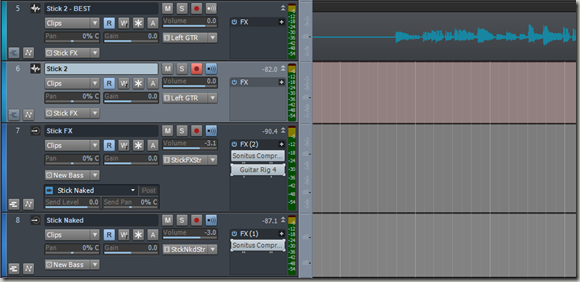 I'm recording a mono track (#6 in the picture) direct into computer's audio interface via a Dual Channel PRO ST Preamp, to buffer and merge the two channels from the Stick into a single mono signal.
This mono signal is then routed in-the-box to an Aux Track "Stick FX" that contains an instance of Guitar Rig 4 virtual amplifier. A pre-FX Send duplicates the signal to a second Aux Track that allows me to mix in some of the clean, un-effected sound of the Stick.