My Digital Audio Workstation (DAW) of choice is Cakewalk's SONAR. In 2017, Cakewalk (formerly Twelve Tone Systems) were celebrating their 30th year in business. Over the years, the "Cakewalk" MIDI sequencer evolved to support digital audio and matured to became a very capable music production environment. Eventually the company took the name of its flagship sequencer, and the DAW continued under the "SONAR" name.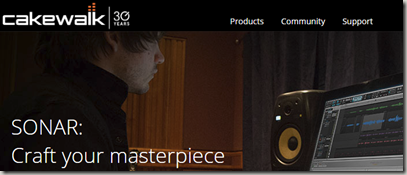 I first encountered Cakewalk Pro Audio in 1994 when my wife-to-be (long story) sent me a copy. I think it was version 5. It very quickly replaced Passport's Master Tracks Pro * as my studio workhorse, especially after digital audio recording features were added. I've been a loyal, paid-up user ever since.
In 2008 the company was effectively acquired by Roland, which in 2013 subsequently sold their shares to Gibson.
In November 2017, Gibson effectively killed the company by stopping ongoing development and reducing the staff to the minimum required to keep the servers running.
We can guess that Gibson may have tried to find another owner for the company, and failed; or perhaps just decided that it was better to write it off as a loss for this financial year.
Either way, we're not going to see any updates to the SONAR product in the foreseeable future, despite the fantasies being spun out by some on the user forum.
The company website still exists, and you can find links to "Buy SONAR" but they all eventually lead to the cease-of-business announcement and the statement that new purchases are no longer possible. Documentation and downloads of historical updates and resources are, for the moment, still available. You'd have to be an idiot to think that this will always be so, however.
So where does that leave folks like me?
Switch to another brand of DAW, immediately
Stay with SONAR for the time being
I think I'm totally in the second group. If I were to switch, it would be to PreSonus Studio One, because I already own it (I use it for the excellent Project page for mastering).
Negatives:
If you're not happy with 2017.10, well, you're out of luck waiting for changes.
A re-install will require access to online authentication servers (at least until a promised work-around is made available).
If you find an existing bug that doesn't have a work-around, you're out of luck getting it addressed.
Positives:
It's not like SONAR is going to suddenly stop working;
No new features means no new bugs;
As far as we know, there aren't any existing show-stopper bugs without workarounds;
Total mastery of the software is possible; current techniques won't become obsolete;
We can finally create an up-to-date knowledge base of tips, tricks, and workarounds.
I don't regret the time or money I've invested in Cakewalk SONAR up until this point. To throw up my hands and abandon it? That would be throwing away that investment. So for now, call me a happy SONAR user.
Onward, and create!
* Oh my goodness, they are still a Thing.