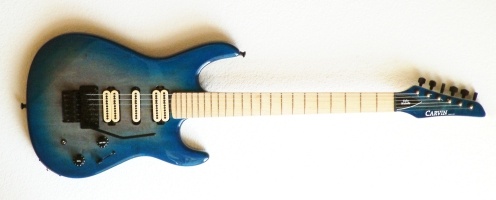 Serial# 85493
Another fine product of the Carvin factory in San Diego.
Vital Statistics:
Bolt+ with Floyd Rose Trem
Floyd locking nut
plain maple cap on Alder body
Maple neck (tung oil finish)
No inlays
Headstock color to match body
H22N,T pickups
Center position AP11
Cream bezels
On/Off switch for bridge pickup
Black chrome hardware
Black plastic knobs (K8, K9)
Body finish: Originally I wanted the off-book "blue denim" stain all over the body. But there is a reason that this finish is "off-book". It doesn't always look great. In this case, the end grain really didn't look so good. Sean at Carvin sent me some photos of the unfinished body with just the blue stain, and we mutually agreed that blue-burst edges would be a good idea. The results were beyond my imagining, and much closer to my original inspiration than I thought I would achieve.